affiliate links used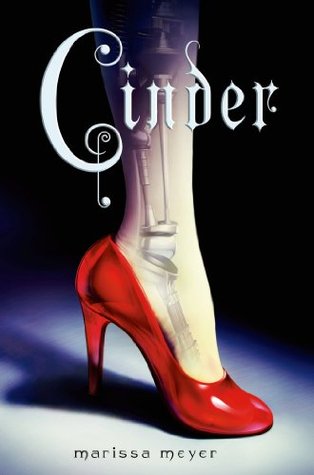 Cinder: Book One of the Lunar Chronicles
Rating: 5/5 stars
Pub date: 3 Jan 2012
Publisher: Square Fish by Macmillan
Genre: Young Adult, Fairy Tale, Science Fiction
Format: Paperback, special edition, signed, obtained through giveaway on Mary Had a Little Book Blog
Disclaimer This is entirely my own opinion of this work and in no way is affiliated with Marissa Meyer or Square Fish. I have not been compensated for reading or reviewing this work. I review based on the Goodreads rating system of stars.
Summary
Humans and androids crowd the raucous streets of New Beijing. A deadly plague ravages the population. From space, a ruthless lunar people watch, waiting to make their move. No one knows that Earth's fate hinges on one girl.
Cinder, a gifted mechanic, is a cyborg. She's a second-class citizen with a mysterious past, reviled by her stepmother and blamed for her stepsister's illness. But when her life becomes intertwined with the handsome Prince Kai's, she suddenly finds herself at the center of an intergalactic struggle, and a forbidden attraction. Caught between duty and freedom, loyalty and betrayal, she must uncover secrets about her past in order to protect her world's future.
Growing up, I loved Disney. I loved several of the Disney princesses. I HATED Cinderella. I always thought she was a great priss. However, when I started hearing the hype over Cinder, I was greatly intrigued. When Mary announced her giveaway, I was instantly drawn to Legend and Cinder. Being the third winner, I expected I wouldn't get either, but was ecstatic to see Cinder was still on the list. I immediately picked it. I had a few other things to read first, but seeing how popular Cinder and Scarlet were, I went ahead and requested Scarlet from the library. I was surprised how quickly I received it. I hit a lull in Reached and needed to step back for a bit. Knowing I wouldn't be able to renew Scarlet, I quickly pounced on Cinder. I'm glad I did!
I'm always fond of strong female protagonists, but it is quite refreshing to see a female in a typically male dominated profession. Even when Prince Kai comes along to bring his broken android to her, he is expecting a man. His reaction reminded me a lot of Neo and Trinity. Whoa, whoa, whoa, you're a GIRL?! A nice change from the classic tale, Cinder is more of a tomboy. I can relate to this. I've never been a girly girl, even now as a mother of a daughter, I like girly things occasionally, but not overly girly things.
Cyborgs. I'll admit, I wasn't terribly crazy about this idea at first. I dislike the Terminator movies, except for the last one with Christian Bale, but I only watched it FOR Christian Bale. I've never really been into the whole robot thing. It works with this world. It's hard to estimate just how far into the future this is set. It takes place almost 130 years after World War 4. (I'm happy to say) World War 3 hasn't even occurred yet in 2013. I'm feeling this is probably set in the 3000s. That being said, that much robotic technology and advances is acceptable to me. Forcing too much technological advances in novels irritates me.
New Beijing. This really interested me. I've read several reviews that were upset with the location setting saying that it wasn't true to the Chinese culture. I didn't go into it expecting a true Chinese culture representation because the name of the city is NEW. Two more world wars have occurred since the founding of this city. Obviously a lot has changed in the world. Each day cultures are blending more and more. I like the idea that Cinder is still assumed to be European, but raised in an Asian family. The idea of the Commonwealth and the other global conglomerates really interests me. I hope there is further detail in the future books. Just the basic detail of the rulers of each nation just intrigues me more. The Eastern Commonwealth is ruled by a monarchy. Some of the others are monarchies, some are elected, some aren't quite clear how the ruling process is. I also like the idea of a colony on the moon. It's crazy to think that here in 2013, the farthest man has ever been has been to the moon. The universe is infinite and we have explored so little. Even though it's cliched and I'm not a Trek fan, space really is the final frontier.
The architecture also interests me. After so much time passing from now to the time of Cinder, it is interesting to think how things have changed architecturally and what they think of things we've built recently (if any still exists after two world wars and a new plague)
Letumosis. Of course, it's expected that travelers will bring about new diseases to locations never before exposed. Letumosis is carried by Lunars (moon inhabitants) much like smallpox was carried by the Spanish/English/French settlers brought to the New World when they traveled and how the rats carried the fleas that carried Bubonic plague. It sounds as though travel between Earth and Lunar is strictly monitored and rarely allowed, so it makes Letumosis all that more mysterious. No cure is known and Lunars have developed an immunity to it. It sounds as if few families haven't been struck by the plague at some point since it started wreaking havoc on Earth.
Princess Selene. No major spoilers, but I called it. Meyer really pulls a good one with this twist. It's as obvious as it can be, but still leaves that feeling of doubt in your mind. When it clicks, you still ponder if it really could be THAT obvious. After that passes, the legend of the missing princes really feels like the legends of one of the princes in the Tower surviving the War of the Roses or the Grand Duchess Anastasia or one of the other sisters surviving the assassination of the Russian family. Supporters of a side will always cling to rumours when they spread like wild fire.
The ball. Really, what would a Cinderella retelling be if there wasn't a ball involved? I think it's a nice twist on the traditional tale, though.
It's very interesting that there are two "evil" figureheads in this book. Directly, Cinder must deal with her "evil step-mother" who is actually her legal guardian. She despises Cinder and is absolutely horrid to her. The second figurehead is the Queen of the Lunar. With the Lunar gifts, she is overly mysterious and corrupt. She constantly lies and rumours abound about her.
It is interesting with the approach of Cinderella and her Prince Charming. It isn't love at first sight, love because of who he is, or smushy overly romantic crap. It feels like an actual relationship beginning. Reluctance, friendship, attraction. It will be interesting to see how the relationship will play out. Happily ever after as man and wife or just friends?
I'm rarely a fan of cliffhangers, but this one was well done! Will Cinder run? If she runs, where will she go? Will she accept her fate? What does she do know that she knows what she does? So many questions are spinning, but it is interesting to have them spinning and not be upset over the cliffhanger. Maybe it's because I have book two in my hands. I may change my tune once I finish Scarlet and have to wait til 2014 for the continuation if the cliffhanger is set up the same way.
I enjoyed this book very much, and it is definitely to be re-read and shared with my daughter when she gets bigger. I'll share it too, with my son, if he's interested. That's another wonderful thing about this, it's not overly girly and isolationist in it's style. It easily could be enjoyed by a guy too. Or at least, in my opinion it could be.
Recommended for: Readers who like science fiction, modern tellings of fairy tales, female protagonist in a male dominated field
Not recommended for: Readers who prefer true retellings of fairy tales, futuristic technology, someone expecting lots of Chinese culture due to the setting