"Waiting on Wednesday" is a weekly event hosted by Jill at the Breaking The Spine. It showcases upcoming releases we're anticipating!
My pick of the week is: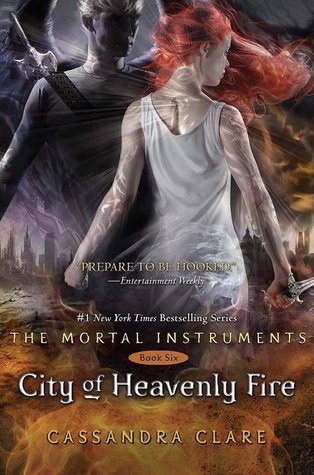 City of Heavenly Fire (The Mortal Instruments #6)

By: Cassandra Clare

Coming: 27 May 2014
Publisher: McElderry Books, Simon & Schuster

Summary:
ΕRCHOMAI, SEBASTIAN HAD SAID.
I am coming.
Darkness returns to the Shadowhunter world. As their society falls apart around them, Clary, Jace, Simon and their friends must band together to fight the greatest evil the Nephilim have ever faced: Clary's own brother. Nothing in the world can defeat him — must they journey to another world to find the chance? Lives will be lost, love sacrificed, and the whole world changed in the sixth and last installment of the Mortal Instruments series!

Why I'm excited:
Um. I love this series. I'm currently re-reading the first five books in preparation to read this book NEXT week! I've been impatiently waiting for this book since the beginning of last year when I first jumped into this series. I was worried it wouldn't live up to the hype that's surrounding it, but I really love this series. I promptly ordered the whole series (through book 5) and the companion series The Infernal Devices (preordering Clockwork Princess) before I even finished City of Bones. I knew this series would be great.

Why I need you to be excited:
The ultimate battle is about to go down. We know SOMEONE will not make it out alive. Maybe more than one person. I'm pumped up to see how it all ends, I want you to be excited too!