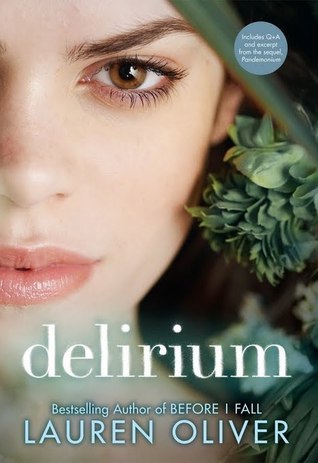 ***As always mild spoilers may follow***

Rating: 4 stars
Pub date: 7 February 2012
Publisher: HarperCollins
Genre: YoungAdult, Romance, Dystopian, Science Fiction
Format: paperback, personal copy, & audiobook, via library
Status: Book one of the Delirium trilogy

Summary:

Ninety-five days, and then I'll be safe. I wonder whether the procedure will hurt. I want to get it over with. It's hard to be patient. It's hard not to be afraid while I'm still uncured, though so far the deliria hasn't touched me yet. Still, I worry. They say that in the old days, love drove people to madness. The deadliest of all deadly things: It kills you both when you have it and when you don't.
My thoughts:
Let mejust say I wasn't entirely sure what to expect when I started Delirium. Love as a disease? I can see it. We do crazy things under the influence of love, especially as teenagers!
The aspect of the cure for deliria really kinda had me terrified from the get go. In a world full of love, I can't imagine losing it. How could I not love my husband or even my children? The vague explanation of how the cure procedure is executed also made me leery. I don't want anyone digging around in my brain, thanks.
I wasn't thrilled with Lena as a character. She seemed rather flat even as the action picked up. As a trilogy, hopefully she'll grow more.
I really liked Alex, but I have a feeling if this society really existed it would've been much harder for him to slip around. Things felt a bit too easy. It was believeable to see stubborn and determined Lena fall for him though. It was definitely a first love relationship.I also really liked Hana. To me, she seemed like a better character to peg as the one to break all the rules and go all the way breaking them. I'm interested to see how things go for her.

Delirium got better the more you read though. The action reaches a great sxplosion that leaves you wanting more. I'm glad I'm able to read the whole series at once. That cliffhanger is a doozy. I have a theory about it though. We'll see if I end up being right.
A good dystopian idea. A bit disappointing overall, but I did enjoy it. I would recommend you at least give it a chance based on the idea of love being illegal and capable of being cured. Keep an eye out next month during my blogoversary. I have a copy of Delirium to give away! (:
About the author:
Lauren Oliver comes from a family of writers and so has always (mistakenly) believed that spending hours in front of the computer every day, mulling over the difference between "chortling" and "chuckling," is normal. She has always been an avid reader.
She attended the University of Chicago, where she continued to be as impractical as possible by majoring in philosophy and literature. After college, she attended the MFA program at NYU and worked briefly as the world's worst editorial assistant, and only marginally better assistant editor, at a major publishing house in New York. Her major career contributions during this time were flouting the corporate dress code at every possible turn and repeatedly breaking the printer. Before I Fall is her first published novel.
She is deeply grateful for the chance to continue writing, as she has never been particularly good at anything else.