Flashback Friday is a feature I started here on The Whimsical Mama featuring books I read before I started blogging. Most reviews will come after rereading the book again. This is a biweekly feature. This week's selection is: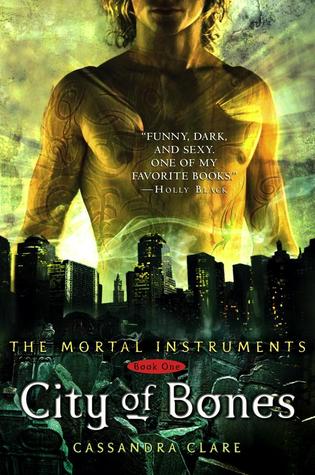 ***As always mild spoilers may follow***

Rating: 5 stars
Pub date: 27 March 2007
Publisher: Margaret K McElderry Books, Simon & Schuster
Genre: Young Adult, Fantasy, Urban Fantasy, Paranormal
Format: paperback, personal copy,audiobook, via library
Status: Book one of The Mortal Instruments series

Summary:
When fifteen-year-old Clary Fray heads out to the Pandemonium Club in New York City, she hardly expects to witness a murder― much less a murder committed by three teenagers covered with strange tattoos and brandishing bizarre weapons. Then the body disappears into thin air. It's hard to call the police when the murderers are invisible to everyone else and when there is nothing―not even a smear of blood―to show that a boy has died. Or was he a boy?
This is Clary's first meeting with the Shadowhunters, warriors dedicated to ridding the earth of demons. It's also her first encounter with Jace, a Shadowhunter who looks a little like an angel and acts a lot like a jerk. Within twenty-four hours Clary is pulled into Jace's world with a vengeance, when her mother disappears and Clary herself is attacked by a demon. But why would demons be interested in ordinary mundanes like Clary and her mother? And how did Clary suddenly get the Sight? The Shadowhunters would like to know…
Exotic and gritty, exhilarating and utterly gripping, Cassandra Clare's ferociously entertaining fantasy takes readers on a wild ride that they will never want to end.
My thoughts:

I think it's fitting that my first review for Flashback Friday is starting with a binge reread of The Mortal Instruments in preparation for City of Heavenly Fire coming out. I picked up an ebook of City of Bones on sale from Amazon. Mary had recommended it to me in passing, so I decided to get it. Then I saw the announcement that Jamie Campbell Bower had been cast in the upcoming movie. I liked him in Sweeney Todd, Twilight, and Harry Potter, so I decided to read this series. I asked Mary about it again and she said to read it. I devoured the whole series and then The Infernal Devices. The Infernal Devices was read while snuggling my very clingy newborn. She's Team Jem like her mommy. (;
Anyway. Focus.
Once again, I was immediately sucked back into Cassie's incredible Shadow World. I've been to New York City once, but between The Mortal Instruments and Melissa de la Cruz's Blue Bloods, I feel that I know it much more than I learned in that single visit. I love that both star in a club scene. I'm much like Simon in not caring for clubs. I've only been a handful of times.
I think that Clary is a very strong and magnetic leading lady. She is thrown into a horrific situation and is able to relatively together. I'm sure it's part of her Shadowhunter legacy over her strengths as a 15/16 year old.
I absolutely love Simon. I think he's the true scene stealer of City of Bones. As a whole, I consistently love him. Yes, he irks me occasionally, but not as much as others. He's the best best friend Clary could ever want and most definitely needs. He has a lot thrown at him, but he remains calm and stays by Clary's side. A true friend for sure, sticking with her through thick and thin.
Jace is a strong personality to swallow. He's so full of himself that during a first read, it's easy to dislike him and wonder what the crap Clary is thinking. Multiple reads and it's still irritating, but you're more sympathetic to his issues.
Isabelle and Alec are introduced and set up to become excellent secondary characters. Isabelle is so sassy and I love it. Alec is well, Alec. Like Jace, he's on the rough side to handle in the first read and then he becomes so endearing.
On my list of villains, Valentine is definitely one of the better ones. Much like Voldemort in Harry Potter, he's a shadowy and feared name an dno one knows if he's alive or dead. I think not knowing is worse than Valentine himself in City of Bones. I find him a much more intimidating figure in City of Bones the book than the movie. As much as I love Johnathon Rhys-Meyers, I thought he was horribly miscast for Valentine.
For a debut novel, I think City of Bones is a well put together story. The world building and characters are incredible. It's full of actions and twists and turns. Every time I've read it, I've breezed through it. I highly recommend it and the series. I think it's worth the hype. Will all of the future spin off series set in the Shadowhunter universe be as great? I can't say. I do think this is a good paranormal series that can be enjoyed by young adult readers of all ages.

About the author:
"Cassandra Clare was born overseas and spent her early years traveling around the world with her family and several trunks of fantasy books. Cassandra worked for several years as an entertainment journalist for the Hollywood Reporter before turning her attention to fiction. She is the author of City of Bones, the first book in the Mortal Instruments trilogy and a New York Times bestseller. Cassandra lives with her fiance and their two cats in Massachusetts."
You can find me online at
I have a blog:
http://cassandraclare.livejournal.com/
and a Facebook:
http://www.facebook.com/Cassandraclare
and a Twitter: