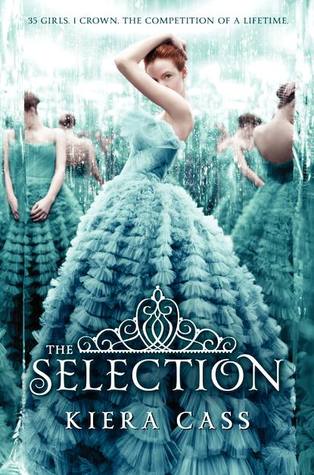 ***As always mild spoilers may follow***

Rating: 4 stars
Pub date: 24 April 2012 
Publisher: HarperCollins, HarperTeen
Genre: Young Adult, Dystopian, Romance
Format: hardcover via library
Status: Book one of The Selection trilogy

Summary:
For thirty-five girls, the Selection is the chance of a lifetime. The opportunity to escape the life laid out for them since birth. To be swept up in a world of glittering gowns and priceless jewels. To live in a palace and compete for the heart of gorgeous Prince Maxon.
But for America Singer, being Selected is a nightmare. It means turning her back on her secret love with Aspen, who is a caste below her. Leaving her home to enter a fierce competition for a crown she doesn't want. Living in a palace that is constantly threatened by violent rebel attacks.
Then America meets Prince Maxon. Gradually, she starts to question all the plans she's made for herself—and realizes that the life she's always dreamed of may not compare to a future she never imagined.
My thoughts:

Okay. Let me start this off by saying I went into The Selection with virtually no expectations and an open mind. I know The Selection is a very polarising book. It's very divided on if you like it or not. It's very divided between the two boys vying for America's affection. That's virtually all I knew going in. The Selection was recommended to me by Mary. (As usual, right? haha) I decided to wait until The One came out so I could binge the whole series. As I do. We didn't really discuss it more than that. We have a good spoiler free relationship. She tells me I should read and eventually I do. Usually much later than I should haha. I didn't read any reviews beforehand. I didn't want to be swayed in anyway. Okay. Now I have that off my chest. (:
I really enjoyed The Selection. My first impression was similarity to The Hunger Games due to the eligible girls putting their names in to be drawn mixed with The Bachelor. (I've never actually seen an episode, but I get the gist.) The Selection came out first, but I also felt a pull to Pawn by Aimee Carter with the caste system.
I foundhow Kiera revealed info slowly was well done. In first person through America, we learn things as she does and through her musings. The dystopian world could've allowed for a massive info dump, but Kiera does a great job revealing as you go. I still have unanswered questions, but there are two more books and two novellas, so I'm not concerned by that yet. I much rather have things revealed slowly than info dumps.
I was surprised by how quick of a read The Selection was. I picked it up Saturday morning and was done by Sunday afternoon. Part of that was a few glorious hours of uninterrupted reading time on Mother's Day. My hubby is the best for that! ❤
I very quickly related to America which is always a biggie for me. If I don't like a character, it's hard to get into the story. I could see a lot of myself in America so that made reading all the more enjoyable. She's stubborn, independent, and musical. She starts off strong and continues to grow. She realises assumptions based on rank don't always hold true. She's also realising friendship can develop into romantic feelings, which to me, is the best kind of love. Her determination to help her family is inspiring.
As far as the other Selected girls go, I only really liked Marlee. She seems like such a kind and loyal friend. I absolutely hated Celeste. That list on reasons why could go on forever.
On the boy front, I can say I'm still Team Undecided. Both boys have impressed me and made me want to smack him upside the head. I do think I am leaning a smidge toward Maxon over Aspen though. That freaking ego issue. UGH. No. JUST NO.
I have to say my favourite parts of The Selection were the scenes with Maxon and America. I think they make the best of friends and I can see that blossoming into romance. I still feel on the fence about Maxon though. He did win major points with that first kiss scene though. ADORABLE.
I'm very excited to continue with my binge of this series. I recommend this to dystopian lovers. It's not as dark on any level (so far) as The Hunger Games, Divergent or Chemical Garden, but it's a great read. Even if you don't love it, I believe it's still an entertaining read.

About the author:
100 Things I Love:
Being married. Cake. The smell of Autumn. Motherhood. Books. Elephants. Back rubs. On demand movies. Actually going out to movies. Faith. Cinnamon rolls. My family. Butterflies. When my kitchen is clean. Crayons. Pink. Tote bags. Dancing. Organizing via color coordination. That my wedding dress was tea length, not floor. Baking. My house. Writing utensils. Paper. India. The sound of water. Making videos. Buttons. The word Episcopalian. Making people laugh. Layering clothes. British accents. Pinterest. Animation. Fireworks. The smell of the Ocean. My wedding rings. Aprons. Reasons to get dressed up. Sex. Pop music. Stars. Taking walks. Daydreaming. Stickers. School Spirit. My friends. Living in a small town. Japan. Singing. Painting my toenails. Pranks/ practical jokes. Painting. Stretch canvas. Costumes. Dipping my fingers in melted wax. Style. Soda. Spending an hour typing at a coffee shop. Musicals. Back to school season. Mopeds. Good hair days. Naps. Not walking up but looking at a beautiful staircase. Driving alone. My ankles. Playlists. Spending entire days in pajamas. Holidays. Telling stories. Spontaneity. Theme parks. Bookshelves. The word copacetic. Boxes. Empty journals. Surprises. Doing things in groups. Doing things alone. Getting real mail. Decorating. Small forks. A good hug. Gift cards. New Years Goals. Going out to dinner. When someone else remembers some great story about me/us that I've forgotten. Toy stores. Fireplaces. Breakfast foods. Journaling. Crying for a good reason. Doorbells. Pointless adventures. Voting. My birthday. Reasons to make wishes. Recycling