"Waiting on Wednesday" is a weekly event hosted by Jill at the Breaking The Spine. It showcases upcoming releases we're anticipating!
 My pick of the week is: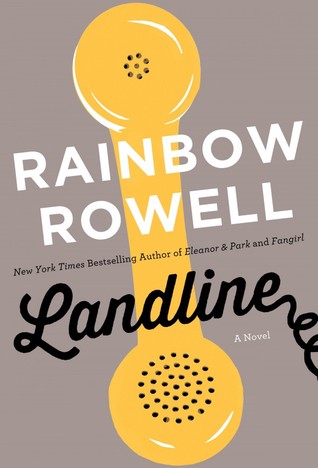 Landline

 By: Rainbow Rowell

 Coming: 8 July 2014

 Publisher: St Martin's Press

 Summary:
Georgie McCool knows her marriage is in trouble. That it's been in trouble for a long time. She still loves her husband, Neal, and Neal still loves her, deeply — but that almost seems besides the point now.
Maybe that was always besides the point.
Two days before they're supposed to visit Neal's family in Omaha for Christmas, Georgie tells Neal that she can't go. She's a TV writer, and something's come up on her show; she has to stay in Los Angeles. She knows that Neal will be upset with her — Neal is always a little upset with Georgie — but she doesn't expect to him to pack up the kids and go home without her.
When her husband and the kids leave for the airport, Georgie wonders if she's finally done it. If she's ruined everything.
That night, Georgie discovers a way to communicate with Neal in the past. It's not time travel, not exactly, but she feels like she's been given an opportunity to fix her marriage before it starts . . .
Is that what she's supposed to do?
Or would Georgie and Neal be better off if their marriage never happened?
Why I'm excited:
Um. It's by Rainbow Rowell. Why WOULDN'T I be excited?! It's contemporary, and you know that's not my usual cup of tea, but Rainbow is my jam. I love her writing. Plus. It's about a married couple. I can totally relate! Ha! 
Why I need you to be excited:
It's by Rainbow Rowell. That's all the reason you need to be excited. Plus it comes out NEXT WEEK!!!