***As always mild spoilers may follow***

Rating: 4 stars
Pub date: 4 February 2014
Publisher: HarperCollins, HarperTeen
Genre: Young Adult, Dystopian, Romance
Format: paperback via library
Status: Companion novellas to The Selection trilogy

Summary:
Before thirty-five girls were chosen to compete in the Selection…
Before Aspen broke America's heart…
There was another girl in Prince Maxon's life…
Don't miss this thrilling 64-page original novella set in the world of the New York Times bestselling novel The Selection. Also features a teaser to The Elite, Kiera Cass's hotly anticipated sequel to The Selection.
My thoughts:
After reading The Selection and now The Prince, I think I may be leaning closer to being Team Maxon. I don't review a lot of novellas, but since I'm so torn between Maxon and Aspen, I thought I would do a combined review of The Prince and The Guard. Plus have a giveaway for one of the e-novellas!
Maxon feels so real and vulnerable reading from his perspective. He comes across that way to me in The Selection, but I still had a lingering feeling that it could be an act. That was put to rest by the end of The Prince. He really seems to care for America – especially since in the events of The Prince, it shows her being truly herself and not trying to win a crown.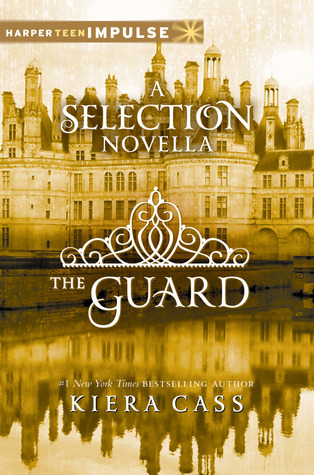 Summary:
Before America Singer met Prince Maxon . . .
Before she entered the Selection . . .
She was in love with a boy named Aspen Leger.
Don't miss this digital original novella set in the captivating world of Kiera Cass's #1 New York Times bestselling Selection trilogy. This brand new 64-page story begins just after the group of Selected girls is narrowed down to the Elite and is told from Aspen's point of view. The Guard also features a teaser to The One, the thrilling conclusion to The Selection trilogy.
My thoughts:
More than ever, I believe I am leaning to Team Maxon. Aspen is a great guy, I just think he and America aren't a right fit for each other. He was the love of her childhood. They've both grown and changed immensely. The biggest turn off for me is still Aspen's ego. He's so obsessed with taking care of America that he's blind to the fact that America is quite capable of taking care of herself. She's not the damsel in distress Aspen thinks she is. She definitely doesn't need to be protected from Maxon. She's great with that on her own! He also trashes on Maxon any chance he gets. If he's truly leaving the choice up to America, he should keep his mouth shut about a guy he knows nothing about. After seeing what happens to Marlee, you would think he would want to keep America safe and back off. I think it's incredibly selfish of him to continue to try to see her in secret. Yes, America could say no, but she's too afraid of hurting him the way he hurt her. Still reserving final judgement, but after two books and two novellas, Maxon is in the lead!

About the author:
100 Things I Love:
Being married. Cake. The smell of Autumn. Motherhood. Books. Elephants. Back rubs. On demand movies. Actually going out to movies. Faith. Cinnamon rolls. My family. Butterflies. When my kitchen is clean. Crayons. Pink. Tote bags. Dancing. Organizing via color coordination. That my wedding dress was tea length, not floor. Baking. My house. Writing utensils. Paper. India. The sound of water. Making videos. Buttons. The word Episcopalian. Making people laugh. Layering clothes. British accents. Pinterest. Animation. Fireworks. The smell of the Ocean. My wedding rings. Aprons. Reasons to get dressed up. Sex. Pop music. Stars. Taking walks. Daydreaming. Stickers. School Spirit. My friends. Living in a small town. Japan. Singing. Painting my toenails. Pranks/ practical jokes. Painting. Stretch canvas. Costumes. Dipping my fingers in melted wax. Style. Soda. Spending an hour typing at a coffee shop. Musicals. Back to school season. Mopeds. Good hair days. Naps. Not walking up but looking at a beautiful staircase. Driving alone. My ankles. Playlists. Spending entire days in pajamas. Holidays. Telling stories. Spontaneity. Theme parks. Bookshelves. The word copacetic. Boxes. Empty journals. Surprises. Doing things in groups. Doing things alone. Getting real mail. Decorating. Small forks. A good hug. Gift cards. New Years Goals. Going out to dinner. When someone else remembers some great story about me/us that I've forgotten. Toy stores. Fireplaces. Breakfast foods. Journaling. Crying for a good reason. Doorbells. Pointless adventures. Voting. My birthday. Reasons to make wishes. Recycling
Giveaway!
This giveaway is open to US only ( Entrants must be 13 years old to enter. Those entrants under 18 MUST have parental consent. Giveaway is open July 6th 2014 (12am EST) through July 20th 2014 (12am EST). I reserve the right to disqualify entries in violation of my giveaway policies. All entries WILL be verified. Good luck. May the odds be ever in your favor! (: For every 100 entries, I will add another winner!