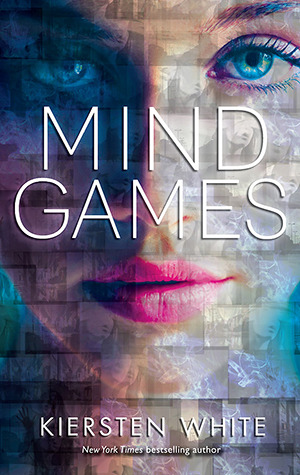 ***As always mild spoilers may follow***

Rating: 3 1/4 stars
Pub date: 19 February 2013
Publisher: HarperCollins, HarperTeen
Genre: Young Adult, Dystopian, Paranormal
Format: hardcover, personal copy, signed
Status: Book one of the Mind Games duology

Summary:
Fia was born with flawless instincts. Her first impulse, her gut feeling, is always exactly right. Her sister, Annie, is blind to the world around her—except when her mind is gripped by strange visions of the future.
Trapped in a school that uses girls with extraordinary powers as tools for corporate espionage, Annie and Fia are forced to choose over and over between using their abilities in twisted, unthinkable ways…or risking each other's lives by refusing to obey.
In a stunning departure from her New York Times bestselling Paranormalcy trilogy, Kiersten White delivers a slick, edgy, heartstoppingly intense psychological thriller about two sisters determined to protect each other—no matter the cost.
My thoughts:

I was nervous going into Mind Games. I ordered it to go along with my ARC of Perfect Lies that came as a surprise from Harper. I'd been excited about Mind Games and Perfect Lies and took a leap of faith when I asked Mary to get them personalised during the Dark Days tour. I was supposed to go, but things fell through and I wasn't able to go.
I didn't enjoy Mind Games as much as I'd hoped, but enough to be happy I got it personalised.
It was nice to have a relatively short read. It took me longer than expected to read because life interfered and it almost forced me to put it down because a super stressful week did not jive with such a dark book. Thankfully, I woke up in a better mindset the night after I had decided to put Mind Games down and I knocked it out during the kids' naptime.
I enjoyed Annie's POV much more than Fia's. Both as a stream of consciousness felt rather chaotic, especially with jumping between past and present as well as between sisters. Close attention HAD to be paid to chapter endings/beginnings. I got confused a few times when I got careless with reading.
Orphaned and taken in to an elite school, the girls are already a bit unstable. Annie is blind, plus sees visions. Fia has been in charge of watching out for her older sister since the accident that stole Annie's sight. The school continues to destroy Fia. To make matters worse, James enters the scene.
From the beginning, things go from bad to worse for the girls. Fia is forced to commit murder and Annie is held hostage to ensure Fia cooperates.
For being under 240 pages, a lot of action goes down and the ending does leave you curious for more. The writing style is not one I cared for. The stream of consciousness of a lot of mental ramblings was overwhelming at times. Too much crazy from Fia. WAY TOO MUCH CRAZY.
While a lot happens in a short amount of time, there is minimal world building. We don't know anything about the outside world or even really anything about the school where they live. Not too thrilled with that, but this is so character driven that I'll let it slide. If this was more than a duology, it would be a major issue.
As such a short book, I can recommend it. It's a fast read (don't take my logged time as a testament to that since I went days without reading). I'm interested enough to continue on to book two. If it was more than a duology, I don't know if I would commit, but two short books, I can get behind this story.

About the author:
Hi! I'm the New York Times best-selling author of Paranormalcy and Supernaturally. I also give the most awkward hugs in the world. You should probably opt for one of my books over one of my hugs, but then again, maybe you like awkward hugs.
As for me, I like writing flirting scenes, and fighting scenes, and sometimes I write scenes that fall somewhere in between the two, but only if I can't avoid it