Flashback Friday is a feature I started here on The Whimsical Mama featuring books I read before I started blogging. Most reviews will come after rereading the book again. This is a biweekly feature. This week's selection is: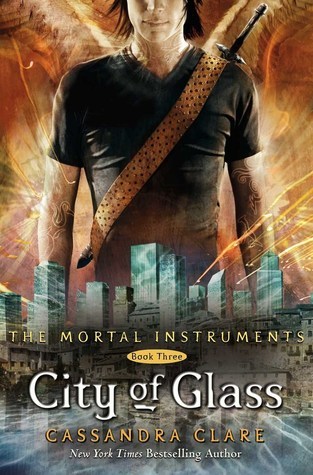 ***As always mild spoilers may follow***

Rating: 5 stars
Pub date: 24 March 2009
Publisher: Margaret K McElderry Books, Simon & Schuster
Genre: Young Adult, Fantasy, Urban Fantasy, Paranormal
Format: paperback, personal copy ,audiobook, via library
Status: Book three of The Mortal Instruments series

Summary:
To save her mother's life, Clary must travel to the City of Glass, the ancestral home of the Shadowhunters – never mind that entering the city without permission is against the Law, and breaking the Law could mean death. To make things worse, she learns that Jace does not want her there, and Simon has been thrown in prison by the Shadowhunters, who are deeply suspicious of a vampire who can withstand sunlight.
As Clary uncovers more about her family's past, she finds an ally in mysterious Shadowhunter Sebastian. With Valentine mustering the full force of his power to destroy all Shadowhunters forever, their only chance to defeat him is to fight alongside their eternal enemies. But can Downworlders and Shadowhunters put aside their hatred to work together? While Jace realizes exactly how much he's willing to risk for Clary, can she harness her newfound powers to help save the Glass City – whatever the cost?
Love is a mortal sin and the secrets of the past prove deadly as Clary and Jace face down Valentine in the third installment of the New York Times bestselling series The Mortal Instruments.
My thoughts:

Re-reading binge continues with City of Glass. The action picks up shortly after the events of City of Ashes. Preparations are being made to travel to Alicante in Idris. Clary is on a mission to save her mother. Jace tries to leave Clary behind, but the determined Clary makes it anyway.
Along the way, the group comes across several new characters – all of which have an impact on the story. The most important being Sebastian – who isn't all he seems.
They're hurtling toward a battle with Valentine and his demon army. He's certain his hidden followers in the Clave will ensure loyalty to him. He never expected the Clave to align with the Downworlders.
It's clear that this was originally intended as a trilogy, but enough things are left open for the second trilogy to take place. The battle with Valentine is over, but the battle against Sebastian has only begun.
I really enjoyed getting to see even more perspective in City of Glass than City of Bones or City of Ashes. I really loved having more interaction between Alec and Magnus. I also enjoyed a closer look at Isabelle. She's a tough warrior, but she also has her own insecurities. I found myself torn over Aline again. I like getting to see other Shadowhunters, but she also feels like an annoying character. She feels like she's one that has to grow on you.
I will say that the length got to me this time around. Not sure why, but it felt like I was reading two books in one. It might be because I'm excited to see where everything ends up or it might be because I'm trying to remember what happens in each book.
Obviously being longer, there is much more chance for action. City of Glass definitely has highs and lows in action and slowly reveals everything that was alluded to in City of Bones and City of Ashes.
I do believe that you can read the first three books as a trilogy and not feel you have to commit to a six book series. However, I do think the events in the first three are necessary to the story for the next three. I do not see the second trilogy as standalone in their arc. They are reliant on the first three books.

About the author:
"Cassandra Clare was born overseas and spent her early years traveling around the world with her family and several trunks of fantasy books. Cassandra worked for several years as an entertainment journalist for the Hollywood Reporter before turning her attention to fiction. She is the author of City of Bones, the first book in the Mortal Instruments trilogy and a New York Times bestseller. Cassandra lives with her fiance and their two cats in Massachusetts."
You can find me online at
I have a blog:
http://cassandraclare.livejournal.com/
and a Facebook:
http://www.facebook.com/Cassandraclare
and a Twitter: