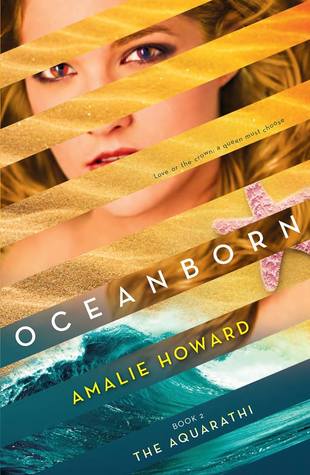 Oceanborn (The Aquarathi) (English Edition)
(affiliate link)
Waterfell (The Aquarathi)
***As always mild spoilers may follow***

***I received a finished paperback from Harlequin Teen, Amalie Howard, & Jennifer Abbotts, I decided to review on my own. Being provided with a copy in no way swayed my opinion.***
Rating: 5 stars
Pub date: 29 July 2014
Publisher: Harlequin Teen
Genre: Young Adult, Urban Fantasy
Format: paperback provided by Harlequin Teen
Status: book two of the Aquarathi series

Summary:
The coronation is over.
But the battle has just begun.
Nerissa Marin has won her crown. But can she keep it? Already, her ties to the human realm are driving a wedge between Nerissa and her people. When word arrives that her part-human prince consort, Lo, has been poisoned, she makes the difficult choice to leave Waterfell and return landside. As the royal courts debate her decision, even more disturbing rumors surface: a plot is rising against her, led by someone she least expects.
On land, Nerissa learns another shocking truth: Lo does not remember who she is. As her choice to try to save him threatens her hold on her crown, changing loyalties and uncertainty test her courage in ways she could never have imagined. Nerissa will have one last chance to prove herself as a queen …and save the undersea kingdom she loves
My thoughts:
Oh, wow. Once again, Amalie blew me away with her incredible underwater world of Waterfell. Even better that I revisited it in a two book and one novella binge read. The ocean fascinates me and Amalie takes a brilliant idea and runs with it. FANTASTIC.
The action and drama had perfect flow and ebbs. Everything builds until the wave breaks. Okay, I'll stop with the puns and be serious (well as serious as I can be while utterly fangirling!)
Right off, Amalie hits you right in the feels. Or at least she destroyed mine! Lo's in danger?! OH NO SHE DIDN'T! I really admire Rissa's courage to face her royal duties as well as her land troubles. All while pulling time in high school.
Rissa, again, really grew as a character. She still has a strong stubborn and impulsive streak, but she's also more grounded due to her bond with Lo. She's also learned that asking for help isn't a sign of weakness.
I was blown away with the transformation in Lo. Not cool, Amalie. Not cool. It was difficult to watch Rissa watch Lo become an entirely different person. I was chewing my nails like crazy waiting for the outcome. EEP!
Once again Amalie's snark was spot on and it seemed like everyone had a chance to shine with snarky brilliance. The quips between Rissa and Jenna were my favourite. Jenna's a tough one. Not easily cracked and constantly on her toes. Some of her ideas were a bit harebrained and brilliant all at once.
It was hard for me to come to terms with how long it took me to read. I managed to re-read Waterfell in a few days. The cards were stacked against me and it took me a week to complete. Much like blogging recently, the kiddos have been a bit demanding and taking up more of my time. Normally, that would impact my rating and reading experience, but not this time. It constantly had me thinking about it even when I couldn't read. I mulled over what I'd read and contemplated which direction Amalie would take.
For a hot minute, I feared Amalie would leave this as a duology. Then the twist I was hoping for happened! It resulted in a massive cliffhanger, but YAY MORE WATERFELL!
There was one character that genuinely surprised me and it brought tears to my eyes. I was happy forthe closure, even if it was a painful moment.
After the pain of Speio's betrayal in Waterfell, I was happy to see him redeemed in Oceanborn. Events at the end have me super surprised though!
Ultimately, Oceanborn was all I wanted and more. I'm so distressed with the cliffhanger. AHHHH!!!! I could sing this series's praises all day long. I highly recommend it. Fantastic characters and an incredible parallel world. Brava Amalie! Book three please? (:

SEAMONSTER: An Aquarathi Novella (The Aquarathi)
(affiliate link)
***As always mild spoilers may follow***

Rating: 5 stars
Pub date: 17 June 2014
Publisher: Harlequin Teen
Genre: Young Adult, Urban Fantasy
Format: ebook, personal copy
Status: novella of the Aquarathi series

Summary:
They say that love is the death of duty …
Speio Marin is land-bound, tied to the side of the Waterfell queen-to-be, Nerissa. There's only one problem–she wants nothing to do with any of the Aquarathi or her undersea kingdom, preferring instead the freedom of pretending to be human. Torn between his own desires and his duty to serve his future queen, he spirals into an abyss of malcontent. Speio's mistrust of humans is no secret, and he sees them only as a threat to the existence of his people.
Until he meets Anya Delmonico–a mysterious and enigmatic girl, teetering on the edge of survival. Anya is sedate and secretive, yet reckless enough to brave a hundred-foot cliff jump. Caught between a dark past and an ex-boyfriend who refuses to let her go, Anya knows that getting involved with anyone new is the last thing she should do. But when her past catches up to her, Speio turns out to be the only one she can trust, refusing to let her face her demons alone.
When Anya discovers the truth about Speio, putting her life in mortal danger from the Aquarathi as well as her own sinister pursuers, will he risk everything to protect her? Or will he choose duty above all?
My thoughts:
Oh, Spey. I love you so much now. After hating him SO hard at the end of Waterfell, Amalie does an incredible job giving some a glimpse into his mind. My heart melted and warmed to him. It was a great way to whet my appetite while waiting for Oceanborn. Can't wait to see how he continues to redeem himself! Just read it! It's so great!
About the author:

AMALIE HOWARD grew up on a small Caribbean island where she spent most of her childhood with her nose buried in a book or being a tomboy running around barefoot, shimmying up mango trees and dreaming of adventure. 22 countries, surfing with sharks and several tattoos later, she has traded in bungee jumping in China for writing the adventures she imagines instead. She isn't entirely convinced which takes more guts. She is the author of several young adult novels critically acclaimed by Kirkus, PW and Booklist, including Waterfell, The Almost Girl, and Alpha Goddess, a Spring 2014 Kid's INDIE NEXT title. Her debut novel, Bloodspell, was an Amazon best seller and a Seventeen Magazine Summer Read. She currently resides in New York with her husband and three children. Visit her at amaliehoward.com.