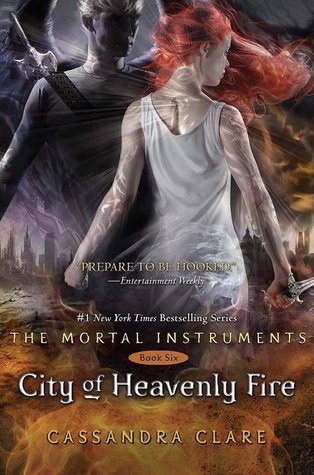 ***mild spoilers may follow***

***affiliate links are used***

Rating:  5 stars
Pub date: 27 May 2014
Publisher: Margaret K McElderry Books, Simon & Schuster
Genre: Young Adult Fiction, Urban Fantasy
Format: hardcover
Status: Book six of The Mortal Instruments series, book three of the second trilogy in the full series
Summary:
In this dazzling and long-awaited conclusion to the acclaimed Mortal Instruments series, Clary and her friends fight the greatest evil they have ever faced: Clary's own brother.
Sebastian Morgenstern is on the move, systematically turning Shadowhunter against Shadowhunter. Bearing the Infernal Cup, he transforms Shadowhunters into creatures out of nightmare, tearing apart families and lovers as the ranks of his Endarkened army swell.
The embattled Shadowhunters withdraw to Idris – but not even the famed demon towers of Alicante can keep Sebastian at bay. And with the Nephilim trapped in Idris, who will guard the world against demons?
When one of the greatest betrayals the Nephilim have ever known is revealed, Clary, Jace, Isabelle, Simon, and Alec must flee – even if their journey takes them deep into the demon realms, where no Shadowhunter has set foot before, and from which no human being has ever returned…
Love will be sacrificed and lives lost in the terrible battle for the fate of the word in the thrilling final installment of the classic urban fantasy series The Mortal Instruments!
My thoughts:
The end. Wow. Another series ending. It doesn't get easier for a series to end, but I still haven't had a series cripple me like Harry Potter ending. I do have to say, the epilogue slayed me. Wow. The epilogue alone was perfection.
I really enjoyed the glimpse into the LA Institute. It will be nice to be able to see these characters come into their own/ I am hoping there will be more Mark. I want to know what will happen between the Faerie Court and the Clave.
I loved the Malec feels. From the start to the end, it was incredible. Communication is key in any relationship and that showed between all of the couples. It's a hard lesson to learn.
I loved getting to see more into how the Clave worked. City of Heavenly Fire set up nicely to connect the transition between The Mortal Instruments and The Dark Artifices. I also loved how The Infernal Devices were woven in too. I hope they make more of an appearance in The Dark Artifices.
I have to say, I was not surprised with the Seelie Queen's allegiance declaration. It was terribly clear to me what would happen there.
City of Heavenly Fire was very good, but there were times it felt too long and drawn out. It could've been because I never had much time to read in long spurts.
There were things I was disappointed over. Not quite as bloody as I was expecting. I was expecting more deaths. There were twists I wasn't expecting though, which is always nice. Never fun to see everything coming!
I loved getting a look into a demon realm. It was fascinating and scary at the same time. Especially concerning Magnus's parentage. Finally! Glad we got that answer. I thought it was neat The Bane Chronicles were alluded to through City of Heavenly Fire and at the end.
Even though knowing things had to end with Sebastian, Cassie still kept it interesting and full of twists. I actually cried!
Okay. I cried a lot. Like a lot, a lot. Especially during the epilogue. Sobbed. I'm surprised I didn't wake up my kids haha.
City of Heavenly Fire is the best of the second The Mortal Instruments trilogy. With other enemy forces, Sebastian felt more believable I guess. It felt more fleshed out. It was a massive read. I guess I hadn't paid attention to the page count when I ordered it!
I am pleased with how things went. I would like to know how relationships pan out. Hoping for snippets of that in The Dark Artifices. It will be a long wait til fall 2015 (I wrote this review immediately after I read The Mortal Instruments, I'm just now posting it!) but I'm sure it'll be worth it. All The Infernal Devices references and character action makes me crave a reread. I recommend you check out the Shadow World if you haven't I believe these books are worth the hype and controversy.