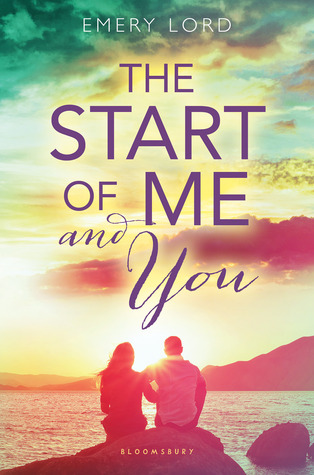 ***mild spoilers may follow***

***affiliate links are used***

Rating:  5 stars
Pub date: 31 March 2015
Publisher: Bloomsbury
Genre: Young Adult Fiction, Contemporary, Romance
Format: e-ARC provided by the publisher in exchange for an honest review, ARC provided by OTSP ARC tour
Status:standalone
Summary:
Following her pitch-perfect debut Following her pitch-perfect debut Open Road Summer, Emery Lord pens another gorgeous story of best friends, new love, & second chances.
Brimming with heartfelt relationships and authentic high-school dynamics The Start of Me and You proves that it's never too late for second chances.
It's been a year since it happened—when Paige Hancock's first boyfriend died in an accident. After shutting out the world for two years, Paige is finally ready for a second chance at high school . . . and she has a plan. First: Get her old crush, Ryan Chase, to date her—the perfect way to convince everyone she's back to normal. Next: Join a club—simple, it's high school after all. But when Ryan's sweet, nerdy cousin, Max, moves to town and recruits Paige for the Quiz Bowl team (of all things!) her perfect plan is thrown for a serious loop. Will Paige be able to face her fears and finally open herself up to the life she was meant to live?
My thoughts:
I received this ARC as part of the ARC tour hosted by On The Same Page. I also received a digital ARC from the publisher in exchange for an honest review. Neither of these copies swayed my opinion in any way.
Following in the vein of Open Road Summer, The Start of Me and You is full of best friends and second chances. As her second book, Emery ran the risk of the "sophomore slump," by The Start of Me and You is anything BUT a slump! The Start of Me and You starts strong and ends stronger.
My absolute favourite thing in The Start of Me and You is the power of friendship. Paige and her group of friends are the perfect example of a great friendship. It's not perfect by any means, but what friendship is? They know and understand each other through thick and thin. There's one phone call that brings to mind an important friendship defining moment in my life. I won't spoil the situation though! If you want to know my moment, send me a message on twitter! (@armywife2310)
As Paige grows and starts her life anew, her group of friends grows and changes to include guys. This group is reminiscent of my group of friends in high school – only we were in band! I think Emery did a great job of showcasing that teen guys and girls CAN have a relationship with zero romance. I'm a firm believer that friendship isn't influenced by gender. One of my best friends in high school was a guy. Yes, we did try dating. No, we didn't magically fall in love. Yes, we were MUCH better friends than a romantic item!
That being said though, Emery does a spectacular job weaving in the path to romance. I love that this pair starts their relationship based on friendship. They get to know the real side of each other and the affection slowly shifts from friend to romantic interest. I was totally shipping them before the ship even sailed!
Another thing I applaud Emery for is showing the nerdy side of life. That the nerd and the jock can get along and even be best friends. Beauty is not the only thing to attract a mate. I loved the geeking out. I was all about some Quiz Bowl in The Start of Me and You! I loved the breaking out the big guns by Max with Pride and Prejudice. Brava Emery for showing a guy can be well read too! I loved how passionate Max was about his interests and not being ashamed over them. Love what you love! I also loved the Open Road Summer shout out. (:
I loved getting to see Paige grow and change as she worked her way through her grief and her new chapter in life. I couldn't relate on a personal level other than a fellow classmate succumbing to cystic fibrosis complications as our senior year started. I didn't know Erin well, but her death still had a huge impact on me. Paige's courage and determination were inspiring. Each step was hard fought, but also won. She knew she could never go back to the way things were, but she worked hard to get things to where she wanted. Eve if a thing or two was not how she originally planned it to be.
A bit heavier than Open Road Summer, but still a quick and enjoyable read for this non-contemporary fan! I definitely recommend adding Open Road Summer and The Start of Me and You to your spring/summer reading list and Emery Lord to your authors to always read list!
About the Author
I'm Emery, and I write books about flawed girls who are really trying, complicated families, friends who show up even when everything's going down in flames, the boy who Gets You even when you don't expect it, and the summer that changed everything.
Open Road Summer is out now, and The Start of Me & You releases March 31st, 2015.
I don't check my GR inbox, but feel free to get in touch via ways listed on my website!
http://www.emerylord.com/p/site-qs.html
ctures.