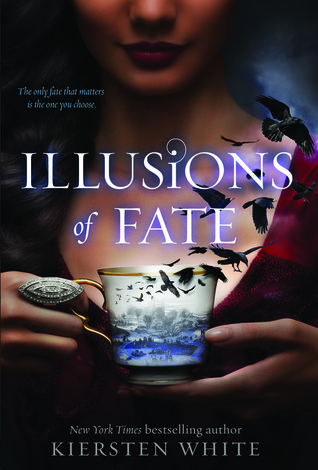 ***mild spoilers may follow***

***affiliate links are used***

Rating:  5 stars
Pub date: 9 September 2014
Publisher: HarperTeen
Genre: Young Adult Fiction, Fantasy, Paranormal
Format: e-ARC, provided by the publisher in exchange for an honest review
Status: standalone
Summary:
Downton Abbey meets Cassandra Clare in this lush, romantic fantasy from New York Times bestselling author Kiersten White.
"I did my best to keep you from crossing paths with this world. And I shall do my best to protect you now that you have."
Jessamin has been an outcast since she moved from her island home of Melei to the dreary country of Albion. Everything changes when she meets Finn, a gorgeous, enigmatic young lord who introduces her to the secret world of Albion's nobility, a world that has everything Jessamin doesn't—power, money, status…and magic. But Finn has secrets of his own, dangerous secrets that the vicious Lord Downpike will do anything to possess. Unless Jessamin, armed only with her wits and her determination, can stop him.
Kiersten White captured readers' hearts with her New York Times bestselling Paranormalcy trilogy and its effortless mix of magic and real-world teenage humor. She returns to that winning combination of wit, charm, and enchantment in Illusions of Fate, a sparkling and romantic new novel perfect for fans of Cassandra Clare, The Madman's Daughter, and Libba Bray.
.
My thoughts:
I was ecstatic when Illusions of Fate popped up on Edelweiss! I mean, LOOK AT THAT COVER! It's GORGEOUS! Plus the description having Downton Abbey and Cassandra Clare in it definitely piqued my interest. Usually comparisons and perfect for fans of turn me away, but sometimes curiosity gets me. Especially when a gorgeous cover is involved! I love Downton Abbey and The Infernal Devices, so a book with elements of both? YES, PLEASE!
I have only read Kiersten's Mind Games duology, (review) so I was familiar with her writing, but Illusions of Fate is an entirely different beast. It's definitely, hands down, my favourite of the three I've read. Mind Games was okay/good, but Illusions of Fate knocked it out of the park.
Leading lady Jessamin left her island home to further her education. She is faced with racial discrimination. She is darker skinned than her classmates and is poor. Wealth and privilege are the ways of the land. (Sounds familiar, right?) Her estranged father is a professor at her school, but ignores her existence. She doesn't let that get her down though. She is determined to fulfill her dreams. I related to Jessamin through her use of sarcasm. Sarcasm FTW! (: The most refreshing thing about this delightful fantasy (besides being a standalone!) is that Jessamin isn't a damsel in distress. She has the brains and courage to take care of herself in troublesome situations. Her fatal flaw is her stubbornness though. She doesn't seek help even when she truly needs it. (Ouch, that sounds familiar…)
It was also fascinating to see how Kiersten handled racism/discrimination in Illusions of Fate. Jessamin is a person of colour and discriminated as such, but she also discriminates against those unlike herself. I believe Kiersten takes a delicate and very important subject and spins it into her world beautifully.
The world of Illusions of Fate is complex and thoroughly fleshed out. It would've been so easy to keep things drawn out and spin into a duology or even a trilogy, but Kiersten does a fantastic job of keeping the story concise while putting layer upon layer of complexity to her characters and the world.
The storyline is neatly wrapped up in the end, but I feel it leaves just enough of a void for a new story to take off if so desired. I absolutely love that Illusions of Fate is a standalone. No long commitments of waiting for a new book each year, but I also wouldn't be opposed to a companion novel sometime.
Kiersten creates a beautiful and addicting world, and you'll find yourself wanting to devour it in one sitting. I loved it so much I had to have a physical copy for my shelves!
About the Author
Hi! I'm the New York Times best-selling author of Paranormalcy and Supernaturally. I also give the most awkward hugs in the world. You should probably opt for one of my books over one of my hugs, but then again, maybe you like awkward hugs.
As for me, I like writing flirting scenes, and fighting scenes, and sometimes I write scenes that fall somewhere in between the two, but only if I can't avoid it.
I don't check my GR inbox, but feel free to get in touch via ways listed on my website!
http://www.emerylord.com/p/site-qs.html