Flashback Friday is a feature I started here on The Whimsical Mama featuring books I read before I started blogging. Most reviews will come after rereading the book again. This is a biweekly feature. This week's selection is: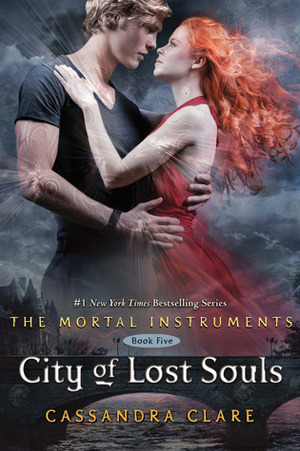 ***As always mild spoilers may follow***
Rating: 5 stars
Pub date: 8 May 2012
Publisher: Margaret K McElderry Books, Simon & Schuster
Genre: Young Adult, Fantasy, Urban Fantasy, Paranormal
Format: hardcover, personal copy ,audiobook, via library
Status: Book five of The Mortal Instruments series
Summary:
The New York Times bestselling Mortal Instruments continues—and so do the thrills and danger for Jace, Clary, and Simon.
What price is too high to pay, even for love? When Jace and Clary meet again, Clary is horrified to discover that the demon Lilith's magic has bound her beloved Jace together with her evil brother Sebastian, and that Jace has become a servant of evil. The Clave is out to destroy Sebastian, but there is no way to harm one boy without destroying the other. As Alec, Magnus, Simon, and Isabelle wheedle and bargain with Seelies, demons, and the merciless Iron Sisters to try to save Jace, Clary plays a dangerous game of her own. The price of losing is not just her own life, but Jace's soul. She's willing to do anything for Jace, but can she still trust him? Or is he truly lost?
Love. Blood. Betrayal. Revenge. Darkness threatens to claim the Shadowhunters in the harrowing fifth book of the Mortal Instruments series.

My thoughts:
The reread binge has come to an end for The Mortal Instruments. I ended up forcing myself to take my time with City of Lost Souls because I ended up reading through the series faster than I anticipated. I would've started with The Infernal Devices if I had known I'd be able to breeze through soquickly. I still have to say I don't like Sebastian as an adversary. I still prefer Valentine. Sebastian feels too evil to be believable. The action surrounding him in City of Lost Souls is better than in City of Fallen Angels. The first read, I had a sense of maybe things could've changed just like Clary. My second read, I could see that he's too evil to be redeemed. This time around, I feel like the quest to save Jace is too drawn out. Some of the adventures of Jace, Clary, and Sebastian are too much of page fillers. Also the change in Jace is so drastic, he becomes unlikable for me. A brave move by Clare, but one I wish hadn't happened. I also feel that Isabelle is abit out of character. I think it works nicely though because she's never felt the way she does about Simon. That first rush of love is always unsettling even for someone as sure and confident as Izzy. I love that Jordan and Maia are working through their issues. They are easily my favourite couple in this book. I wish we'd gotten to see more of Luke and Jocelyn's romance. Not delving into it makes me fear for their safety in City of Heavenly Fire. Why put so much work into something you're going to destroy? The relationship between Clary and Sebastian truly makes my skin crawl. He is definitely one character I absolutely despise. Not just dislike, but outright hatred. I still feel the first trilogy half is the stronger of the two trilogies in this series. City of Lost Souls is stronger than City of Fallen Angels, but I still feel like it's filler to set up for the epic showdown in City of Heavenly Fire. I have a feeling Jace has a larger role with the heavenly fire part. There is definitely action and unexpected twists which were incredible the first read, but not as thrilling the second time around. I can understand the beating a dead horse feel with more and more books being cranked out in this universe. I've already ordered City of Heavenly Fire. I think I will  borrow the next series before deciding to buy it. Hopefully, it will be more on the level of The Infernal Devices and first half of The Mortal Instruments. The more I think about it, the more I feel the second trilogy hasn't been as well executed.

About the author:
"Cassandra Clare was born overseas and spent her early years traveling around the world with her family and several trunks of fantasy books. Cassandra worked for several years as an entertainment journalist for the Hollywood Reporter before turning her attention to fiction. She is the author of City of Bones, the first book in the Mortal Instruments trilogy and a New York Times bestseller. Cassandra lives with her fiance and their two cats in Massachusetts."
You can find me online at
I have a blog:
http://cassandraclare.livejournal.com/
and a Facebook:
http://www.facebook.com/Cassandraclare
and a Twitter: