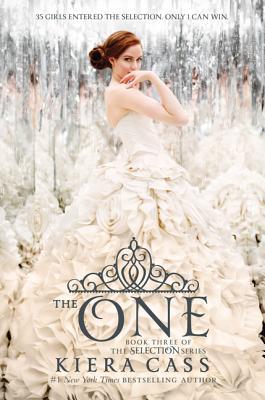 ***As always mild spoilers may follow***

Rating: 4 stars
Pub date: 6 May 2014
Publisher: HarperCollins, HarperTeen
Genre: Young Adult, Dystopian, Romance
Format: hardcover via library
Status: Book three of The Selection trilogy

Summary:
The highly anticipated third book in Kiera Cass's #1 New York Times bestselling Selection series, The One will captivate readers who love dystopian YA fiction and fairy tales. The One is perfect for the fans who have followed America's whirlwind romance since it began—and a swoon-worthy read for teens who have devoured Veronica Roth's Divergent, Ally Condie's Matched, or Lauren Oliver's Delirium.
The Selection changed America Singer's life in ways she never could have imagined. Since she entered the competition to become the next princess of Illéa, America has struggled with her feelings for her first love, Aspen—and her growing attraction to Prince Maxon. Now she's made her choice . . . and she's prepared to fight for the future she wants.
Find out who America will choose in The One, the enchanting, beautifully romantic third book in the Selection series!
My thoughts:

I haven't devoured a series (and enjoyed it) this quickly in a while. I'm blown away by how quickly I knocked it out! The writing and plot are beautiful in their simplicity. Kiera didn't need to get all flowery and show and she didn't. I'm extremely satisfied with where this trilogy ended. I'm not happy with every outcome, but let's face it, no one is ever 100% thrilled by all the outcome in a series!
The action from The Elite continued to rise in The One until everything explodes at the end. I found the action scenese were well done and I was often squirming in my seat from nerves!
America really came into her own as she realised her full potential. I won't give major details away. It was nice to see her realise everything isn't as it seems and sort out her feelings for the boys. I won't give anything away there either. I do believe she ended up with the guy she is meant to be with, though.
I believe Maxon really flourishes as well. He makes decisions that aren't easy in anyway imagineable. I believe he will become the ruler Illea needs. There were still moments when I would've loved to wreing his neck, but again — he's human and prone to mistakes. Knowing what happened to him through his life, I was happy to see him stand up to his father.
As much as Aspen's ego bothered me through the series, I was thrilled to see him make huge strides. I grew to respect his loyalty and devotion to America as things evolved.
I have to say the character who surprised me the most was a toss up between Celeste and Kriss. I had a feeling about Celeste so it wasn't a huge shock, but Kriss was. Again, no details because I don't want to spoil anyone's experience.
I loved getting to see the girls' relationships grow with Queen Amberly even more than they did in The Elite. She's easily one of my favourite characters and I could relate to her through our mutual loss due to miscarriage. I still struggle with not knowing if my daughter would've been a twin or not. I think in a way, that's worse than knowing for certain.
Getting to see more of America's family was great. I love May. She's so feisty! I would love to know what Gerad chooses to do as his profession.
Overall, I'm thrilled with the arc this story took. The prose was lovely and it was an enjoyable read. I'm definitely planning on eventually ordering the series. It will look nice on my dystopian shelf! I still recommend this series to all readers. I think it's a good series to at least give a shot. I'll be sure to check out any of Kiera Cass's future works. I am hoping I can go to YALLFest in November. If I do get to go, I'll keep you updated. If I go, that means…. GIVEAWAY! Kiera will be there and I will totally be getting books signed. (:

About the author:
100 Things I Love:
Being married. Cake. The smell of Autumn. Motherhood. Books. Elephants. Back rubs. On demand movies. Actually going out to movies. Faith. Cinnamon rolls. My family. Butterflies. When my kitchen is clean. Crayons. Pink. Tote bags. Dancing. Organizing via color coordination. That my wedding dress was tea length, not floor. Baking. My house. Writing utensils. Paper. India. The sound of water. Making videos. Buttons. The word Episcopalian. Making people laugh. Layering clothes. British accents. Pinterest. Animation. Fireworks. The smell of the Ocean. My wedding rings. Aprons. Reasons to get dressed up. Sex. Pop music. Stars. Taking walks. Daydreaming. Stickers. School Spirit. My friends. Living in a small town. Japan. Singing. Painting my toenails. Pranks/ practical jokes. Painting. Stretch canvas. Costumes. Dipping my fingers in melted wax. Style. Soda. Spending an hour typing at a coffee shop. Musicals. Back to school season. Mopeds. Good hair days. Naps. Not walking up but looking at a beautiful staircase. Driving alone. My ankles. Playlists. Spending entire days in pajamas. Holidays. Telling stories. Spontaneity. Theme parks. Bookshelves. The word copacetic. Boxes. Empty journals. Surprises. Doing things in groups. Doing things alone. Getting real mail. Decorating. Small forks. A good hug. Gift cards. New Years Goals. Going out to dinner. When someone else remembers some great story about me/us that I've forgotten. Toy stores. Fireplaces. Breakfast foods. Journaling. Crying for a good reason. Doorbells. Pointless adventures. Voting. My birthday. Reasons to make wishes. Recycling
Giveaway!
This giveaway is open to US only ( Entrants must be 13 years old to enter. Those entrants under 18 MUST have parental consent. Giveaway is open July 6th 2014 (12am EST) through July 20th 2014 (12am EST). I reserve the right to disqualify entries in violation of my giveaway policies. All entries WILL be verified. Good luck. May the odds be ever in your favor! (: For every 100 entries, I will add another winner!