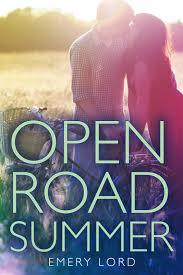 ***mild spoilers may follow***

***affiliate links are used***

Rating:  5 stars
Pub date: 15 April 2014
Publisher: Walker Children's, Bloomsbury
Genre: Young Adult Fiction, Contemporary
Format: hardcover
Status: standalone
Summary:
After breaking up with her bad-news boyfriend, Reagan O'Neill is ready to leave her rebellious ways behind. . . and her best friend, country superstar Lilah Montgomery, is nursing a broken heart of her own. Fortunately, Lilah's 24-city tour is about to kick off, offering a perfect opportunity for a girls-only summer of break-up ballads and healing hearts. But when Matt Finch joins the tour as its opening act, his boy-next-door charm proves difficult for Reagan to resist, despite her vow to live a drama-free existence. This summer, Reagan and Lilah will navigate the ups and downs of fame and friendship as they come to see that giving your heart to the right person is always a risk worth taking. A fresh new voice in contemporary romance, Emery Lord's gorgeous writing hits all the right notes.
My thoughts:
I am not a contemporary fan by any means, but Mary keeps throwing suggestions my way. She very rarely steers me wrong, and I'm glad I had the opportunity to read it!
I was instantly interested because Open Road Summer opens in Nashville. I went to college in Murfreesboro (where I met Mary!) and spent quite a bit of time in Nashvegas. I love Middle Tennessee! So being back in my old stomping grounds without leaving home was great! The way Emery paints the picture, you feel like you're right there beside Reagan.
One of the best things about Open Road Summer is the road trip. Yes, Lilah is on tour and a country superstar, but just the road trip aspect was perfect. My best friends and I planned so many road trips in high school. The only ones that actually happened were band or family oriented, but those are still some of the best memories EVER.
The raw goodness and reality are perfect. In a way, it was out of this world, fantasy type reading for me because I still escaped in reading Emery's work.
The characters were built exceptionally well. Starting with leading lady, Reagan, you have a front row seat into how much a summer can really change your life! Emery takes you through the good, bad, and nitty gritty. Reagan has a past, but who doesn't? I loved getting to watch her come out of her shell and flourish. It was reminiscent to when I went to college in a way. Plus, I could relate to Reagan on other levels – photography, not tolerant of BS, and the fiercely loyal and close friendship reminds me so much of my friendships with two of my best friends.
Speaking of. Dee (as she's known to Reagan, Lilah Montgomery to the rest of the world) is fantastic. She keeps Reagan grounded. Despite being a superstar, she is down to earth and very few people know the 100% real Dee. She's the best best friend and offers Reagan the chance to come on tour with her as a fresh start and turn over a new leaf after a few bad life choices. Dee has her own troubles to deal with as well. Bad publicity leads to bringing in the other fantastic secondary character: Matt Finch.
Matt used to be in a family group and is now trying to make a break on his own. He's a good friend of Dee's and is brought in to help smooth out some bad Lilah publicity and keep her reputation intact. He has definitely met his match in Reagan but it is far from love at first sight. He matches her and brings out the best in her. Their banter brought many memories of my best guy friend from high school.
The beauty of Emery's world will have you on the tour bus and backstage for a whirlwind summer. You'll laugh, you'll cry, you'll get to see the beauty of young love and second chances. If you're looking for a great pool or beach side read, look no further than this spectacular debut by Emery Lord.
About the Author
I'm Emery, and I write books about flawed girls who are really trying, complicated families, friends who show up even when everything's going down in flames, the boy who Gets You even when you don't expect it, and the summer that changed everything.
Open Road Summer is out now, and The Start of Me & You releases March 31st, 2015.
I don't check my GR inbox, but feel free to get in touch via ways listed on my website!
http://www.emerylord.com/p/site-qs.html